Web Design

Business Need
The Internet and the World Wide Web has had a profound effect on the way the people do business. We have entered an age where
an online presence is no longer an luxury, but a necessity
for getting new customers. It is essential for your business to have a web presence.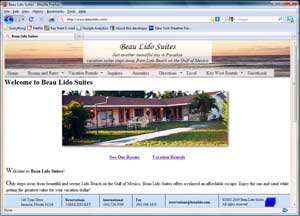 Beau Lido Suites
is a small hotel in Sarasota, Florida. A graceful, easy to use, web site enabled
Beau Lido Suites
to reach customers 24 hours / day, serve as a landing point for online and conventional advertising as well as act as a focal point for guest interaction.